On June 28, Friends of Findlay Market, Food Innovators, Cincinnati Food + Wine Classic and Soapbox gathered to learn about food innovation in Cincinnati, try a few bites from small food startups, and fundraise for Findlay Kitchen, the kitchen at Findlay Market's incubator.
Participants were greeted by Soapbox publisher Patrice Watson and Joe Hansbauer, president of the Corporation for Findlay Market, which is the driving force behind Findlay Kitchen. The incubator kitchen helps food startups move from concept to scale and beyond. (Learn more about that in our event preview coverage here.)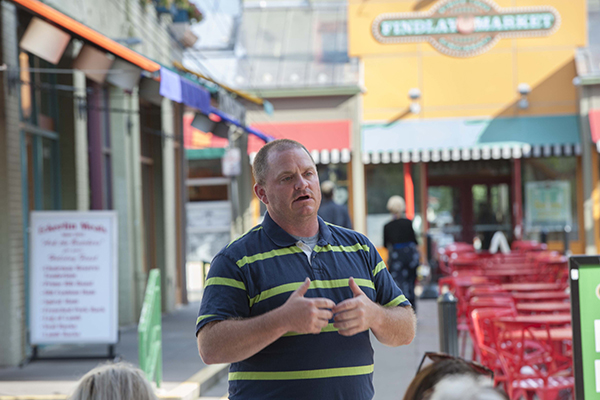 Findlay Market President and CEO Joe Hansbauer. (Photo: Joe Simon)
Hansbauer provided an overview of the next step for Findlay Kitchen: providing revolving spaces, fully furnished by food entrepreneurs, to help determine if they can maintain their own restaurant or retail space. Two showcases are expected to go online later this year to serve as such.
To get the inside perspective of a successful food entrepreneur who used Findlay Kitchen at scale, Soapbox Co-editor Hannah Purnell led a question-and-answer session with Duy Nguyen, co-owner of Pho Lang Thang and Quan Hapa. Nguyen uses Findlay Kitchen to standardize the pork stocks used in his two restaurants, which increases their production exponentially. With the help of Findlay Kitchen, Pho Lang Thang's hours extended to dinner. As guests learned more about how Findlay Kitchen helps entrepreneurs, they enjoyed a veggie pork or bread salad from Pho Lang Thang, as well as kombucha from local startup Fab Ferments.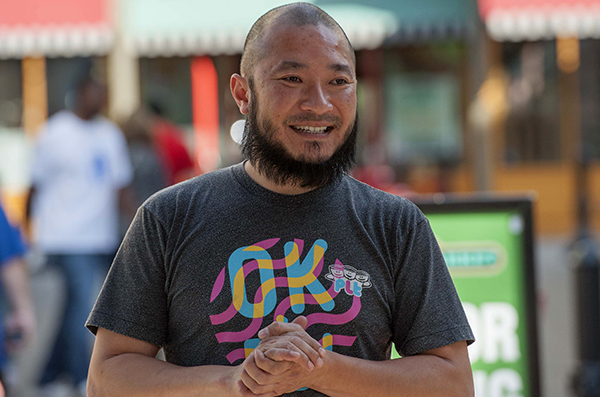 Duy Nguyen, owner of Pho Lang Thang and Quan Hapa. (Photo: Joe Simon)
The next station was held in the Findlay Market Biergarten and featured drinks from the Woodburn Brewery – "Red, White and Brew", a traditional American wheat beer, and "Salmon Shorts Sightings", a lager with strawberries. and rooibus tea. There were also fries from Hen of the Woods and gazpacho from La Soupe.
Donna Covrett, Founder and Owner of CFWC, interviewed Suzy DeYoung of La Soupe and Nick Marckwald of Hen of the Woods as attendees tasted their samples.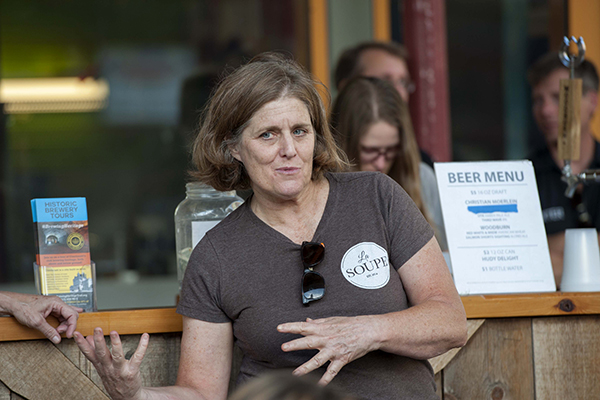 Suzy DeYoung of La Soupe addresses the crowd. (Photo: Joe Simon)
DeYoung was recently awarded the prestigious Jacqueline Kennedy Award from the Jefferson Awards Foundation for her work in rescuing and providing food, cooking classes and other forms of support to food insecure children and their families. DeYoung, along with his "bucket brigade" of volunteer food runners, along with local retail and agricultural partners, saved 125,000 pounds of food from landfills and prepared 95,000 meals.
DeYoung also uses Findlay Kitchen for its "Cincinnati Gives a Crock" program, offering cooking classes for kids and their families who pay $ 5 and leave with cooking skills and a kitchen equipment kit, including a crockpot. At the end of the program, participants get their money back to spend at the Market on fresh produce.
DeYoung also sells soups at its Newtown location, which is an easy way to support its mission. For more information or to become a volunteer, visit the La Soupe website.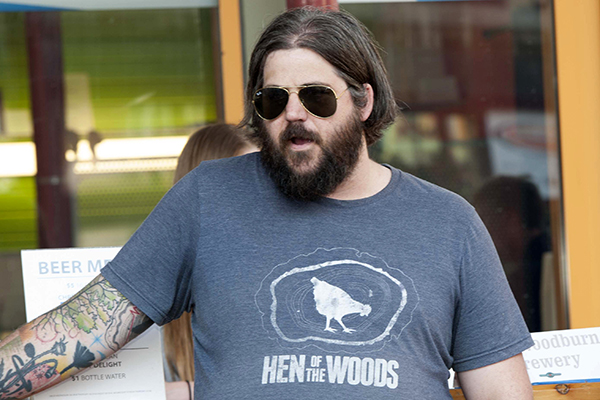 Nick Marckwald of Hen of the Woods. (Photo: Joe Simon)
What started out as a salad garnish is now an innovative, nationally known crisper company. Local chef Marckwald, formerly of Nicola's, planned to open a restaurant and market on Main Street, focusing on forage foods and based on his popular pop-up dinners. Instead, he ended up with a hit on his hands with his pot-cooked crisps in chef's flavors like salt and red wine vinegar, buttermilk and chives and smoke. Marckwald unveiled two new flavors at the event: chili con queso and "everything". After spending several months frying and wrapping crisps by hand, Marckwald teamed up with Mike-Sells in Dayton – the crisper maker provided an unused kettle that Marckwald used to ramp up production. Hen of the Woods potato chips are now available at Kroger, Whole Foods, and other grocery stores in Ohio, Kentucky, and Indiana. They will soon be extended to other places.
The tour continued to Findlay Kitchen, where attendees were able to tour the facilities and samples of two current members: Babushka Pierogies and Queen City Shrub. Kitchen Director Anthony Berin, a graduate of the Johnson & Wales Culinary Arts Program, has also served as Executive Chef of the Son of a Preacher Man and party leader at the Cincinnatian hotel.
Berin took the group through Findlay's pod kitchens, which are dedicated to individual members like Babushka, as well as Eli's BBQ and Pho Lang Thang. There are also communal kitchens, which can be rented by the hour. Several members worked at nearby stations as attendees enjoyed peach pierogis and cocktails with rhubarb, strawberries, vodka and sparkling wine from Queen City Shrub.
Berin serves as a chef, helping with orders, permits, round-the-clock kitchen planning and other member needs. He also acts as a mentor, reminding members of food safety processes, giving advice on sourcing and helping to connect members to collaborate.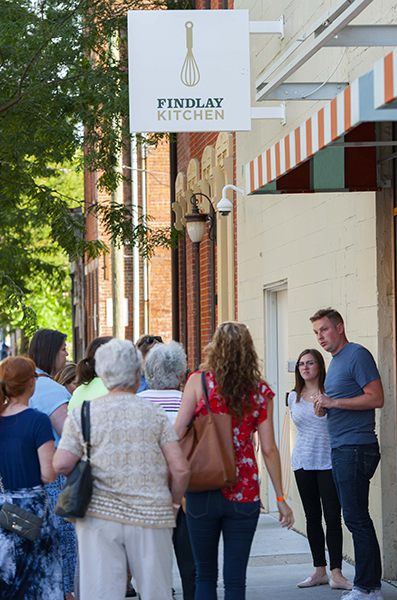 Findlay Kitchen manager Anthony Berin leads a group of attendees. (Photo: Joe Simon)Berin's Kitchen is also home to donations from restaurants, including equipment, serving utensils, and other necessary items, so kitchen members don't have to buy new items when hosting an event, for example. example. He also works with the Demonstration Kitchen, which hosts classes for the public as well as private events like team building activities and bachelorette parties.
Many Findlay Kitchen members will be showcased at CFWC in Yeatman's Cove on September 22-23. In the meantime, head to Findlay Market, where you'll find member products at DIRT, Madison's, Epicurean Mercantile Company, and other places in the surrounding area. the market. Be sure to check the Findlay Kitchen website for class times to unleash the food entrepreneur in you.
Who knows, you might be the next member of Findlay Kitchen.